Just in time for Summer, I'm delighted to offer a chance to win a copy of of the beautiful book~azine by Matthew Mead~
Summer With Matthew Mead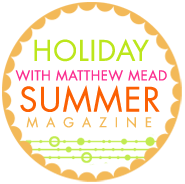 All you need to do is leave a comment below and I will draw the winner on Thursday, April 21. The copy will then be mailed out the second week of May from Matthew Mead Productions.
How about a sneak peek of the deliciousness~
Dreamy, serene and simply beautiful! A slice of Summer heaven from Matthew Mead~
* Matthew is hosting another giveaway on his blog to win a gorgeous necklace from jewelry artist Crystal Beutler's shop.  You will LOVE IT!